Website last updated: 22 Apr 2013 @ 13:01
Season Archive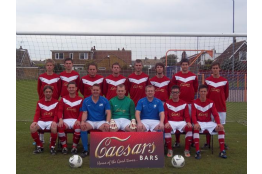 2011-12
Adam Mason and David Thompson took on the young side and managed a good finish having used 62 players.
Jamie Mansfield scored 18, we had 12 clean sheets, won team of the month for feb/march after going 9 games unbeaten including 8 wins.
Some great highlights including a coach trip to Heacham in the junior cup.


Fixtures and Results
| Jul 2011 | Kick Off | | Opposition | Type | F | A | Outcome | Attendance | Report |
| --- | --- | --- | --- | --- | --- | --- | --- | --- | --- |
| Wed 27 | 18:30 | H | Stalham Town | Friendly- | 1 | 1 | Draw | 35 | Report |
| Sat 30 | 14:30 | A | Coltishall | Friendly- | 0 | 5 | Lost | 0 | Report |
| Aug 2011 | Kick Off | | Opposition | Type | F | A | Outcome | Attendance | Report |
| --- | --- | --- | --- | --- | --- | --- | --- | --- | --- |
| Tue 02 | 18:30 | H | Freethorpe FC | Friendly- | 1 | 0 | Won | 58 | Report |
| Sat 13 | 14:30 | A | Hemsby FC | Friendly- | 3 | 0 | Won | 0 | Report |
| Mon 15 | 18:30 | H | Acle Reserves | Friendly- | 2 | 3 | Lost | 49 | Report |
| Sat 20 | 14:30 | H | Redgrave Rangers | League | 1 | 1 | Draw | 31 | Report |
| Sat 27 | 14:30 | A | Newton Flotman | League | 5 | 2 | Won | 0 | Report |
Sep 2011
Kick Off
Opposition
Type
F
A
Outcome
Attendance
Report
Sat 03
14:30
A
Thorpe Rovers

League

6
3
Won
0
Report
Sat 10
14:00
H
Norwich CEYMS Reserves
Reserve -
League Cup
5
0
Won
51
Report
Sat 17
14:30
A
Heacham
Norfolk -
Junior Cup
0
2
Lost
70
Report
Sat 24
14:30
H
Hoveton Wherrymen

League

1
3
Lost
49
Report
Oct 2011
Kick Off
Opposition
Type
F
A
Outcome
Attendance
Report
Sat 01
14:30
A
Matishall Reserves

League

1
6
Lost
20
Report
Sat 08
14:30
A
Fakenham Town Reserves

League

6
0
Won
0
Report
Sat 15
14:30
A
Long Stratton Reserves

League

1
0
Won
45
Report
Sat 22
13:30
H
Stalham Town
Reserve -
League Cup
0
4
Lost
33
Report
Sat 29
14:00
A
Sheringham Reserves

League

1
2
Lost
20
Report
| Nov 2011 | Kick Off | | Opposition | Type | F | A | Outcome | Attendance | Report |
| --- | --- | --- | --- | --- | --- | --- | --- | --- | --- |
| Sat 05 | 14:00 | H | Beccles Town Reserves | League | 0 | 1 | Lost | 22 | Report |
| Sat 12 | 14:00 | A | South Walsham | League | 1 | 0 | Won | 19 | Report |
| Sat 19 | 14:00 | H | Waveney | League | 4 | 0 | Won | 30 | Report |
| Sat 26 | 14:00 | A | Mulbarton Wanderers | League | 1 | 2 | Lost | 41 | Report |
| Dec 2011 | Kick Off | | Opposition | Type | F | A | Outcome | Attendance | Report |
| --- | --- | --- | --- | --- | --- | --- | --- | --- | --- |
| Sat 03 | 14:00 | H | Long Stratton Reserves | League | 3 | 1 | Won | 25 | Report |
| Sat 17 | 14:00 | H | Fakenham Town Reserves | League | 3 | 3 | Draw | 19 | Report |
| Jan 2012 | Kick Off | | Opposition | Type | F | A | Outcome | Attendance | Report |
| --- | --- | --- | --- | --- | --- | --- | --- | --- | --- |
| Sat 07 | 14:00 | H | Mulbarton Wanderers | League | 0 | 1 | Lost | 11 | Report |
| Sat 14 | 14:00 | A | Redgrave Rangers | League | 1 | 3 | Lost | 6 | Report |
| Sat 21 | 14:00 | H | South Walsham | League | 2 | 0 | Won | 16 | Report |
| Sat 28 | 14:00 | A | Beccles Town Reserves | League | 1 | 0 | Won | 47 | Report |
| Feb 2012 | Kick Off | | Opposition | Type | F | A | Outcome | Attendance | Report |
| --- | --- | --- | --- | --- | --- | --- | --- | --- | --- |
| Sat 04 | 14:00 | H | Bungay Town Reserves | League | 0 | 0 | Replay | 0 | Report |
| Sat 11 | 14:00 | H | Matishall Reserves | League | 0 | 0 | Replay | 0 | Report |
| Sat 18 | 14:30 | A | Hoveton Wherrymen | League | 2 | 1 | Won | 14 | Report |
| Sat 25 | 14:30 | H | Sheringham Reserves | League | 2 | 2 | Draw | 44 | Report |
| Mar 2012 | Kick Off | | Opposition | Type | F | A | Outcome | Attendance | Report |
| --- | --- | --- | --- | --- | --- | --- | --- | --- | --- |
| Sat 03 | 14:30 | H | Newton Flotman | Friendly- | 7 | 0 | Won | 14 | Report |
| Sat 10 | 16:00 | H | Thorpe Rovers | League | 3 | 2 | Won | 50 | Report |
| Sat 17 | 14:30 | A | St Andrews Reserves | League | 1 | 0 | Won | 16 | Report |
| Sat 31 | 14:30 | H | St Andrews Reserves | League | 2 | 0 | Won | 20 | Report |
| Apr 2012 | Kick Off | | Opposition | Type | F | A | Outcome | Attendance | Report |
| --- | --- | --- | --- | --- | --- | --- | --- | --- | --- |
| Sat 07 | 14:30 | H | Bungay Town Reserves | League | 0 | 0 | Draw | 3 | Report |
| Wed 11 | 18:30 | A | Waveney | League | 1 | 3 | Lost | 20 | Report |
| Sat 14 | 16:00 | H | Matishall Reserves | League | 5 | 0 | Won | 10 | Report |
| Sat 28 | 14:30 | A | Bungay Town Reserves | League | 2 | 0 | Won | 35 | Report |
Statistics
| No | Player | Position | APP | SUB | ASS | GLS | YEL | RED | POM | RAT |
| --- | --- | --- | --- | --- | --- | --- | --- | --- | --- | --- |
| | David Thompson / Adam Mason | Manager | 0 | 0 | 0 | 0 | 0 | 0 | 0 | 0.0 |
| 1 | Aaron Lindoff | Goalkeeper | 1 | 0 | 0 | 0 | 0 | 0 | 0 | 0.0 |
| 1 | Adam Flaxman | Striker/ Defender/ Goalkeeper | 12 | 1 | 1 | 2 | 2 | 0 | 2 | 0.0 |
| 1 | Craig Lambert | Goalkeeper | 5 | 2 | 0 | 0 | 0 | 0 | 0 | 0.0 |
| 1 | Lee Gillary | Goalkeeper | 14 | 0 | 0 | 0 | 0 | 0 | 2 | 0.0 |
| 2 | Andy White | Defender | 9 | 1 | 0 | 0 | 1 | 0 | 0 | 0.0 |
| 2 | Michale Gislem | Defender | 6 | 1 | 1 | 0 | 1 | 0 | 1 | 0.0 |
| 2 | Paul Land | Midfield | 15 | 5 | 1 | 2 | 0 | 0 | 0 | 0.0 |
| 2 | Shane Smith | Defender | 20 | 15 | 0 | 3 | 1 | 0 | 1 | 0.0 |
| 3 | Adam Bartrum | Defender | 2 | 1 | 0 | 0 | 0 | 0 | 0 | 0.0 |
| 3 | Dave Newbury | Defender | 3 | 1 | 0 | 0 | 0 | 0 | 0 | 0.0 |
| 3 | Jordon Harper | Defender | 1 | 0 | 0 | 0 | 0 | 0 | 0 | 0.0 |
| 3 | Lewis Nudd | Defender | 9 | 2 | 0 | 1 | 1 | 0 | 0 | 0.0 |
| 4 | Adam Mason | Midfield | 4 | 4 | 0 | 0 | 0 | 0 | 0 | 0.0 |
| 4 | Ben Lawrence | Midfield | 3 | 2 | 0 | 0 | 0 | 0 | 0 | 0.0 |
| 4 | Ben Murray | Midfield | 6 | 1 | 0 | 1 | 0 | 0 | 1 | 0.0 |
| 4 | Lee Carter | Midfielder | 12 | 1 | 2 | 1 | 4 | 1 | 1 | 0.0 |
| 4 | Mark Blake | Midfield | 3 | 2 | 0 | 0 | 0 | 0 | 0 | 0.0 |
| 4 | Matt Lines | Midfielder | 4 | 2 | 0 | 0 | 0 | 0 | 1 | 0.0 |
| 4 | Scott Turner | Midfield | 6 | 0 | 0 | 0 | 1 | 0 | 0 | 0.0 |
| 4 | Stuart Leyland | Midfield | 15 | 7 | 0 | 1 | 2 | 0 | 1 | 0.0 |
| 5 | Alan Barrett | Defender | 11 | 0 | 1 | 0 | 0 | 0 | 1 | 0.0 |
| 5 | Craig Sharman | Defender | 9 | 0 | 0 | 0 | 1 | 0 | 0 | 0.0 |
| 5 | Danny Parker | Defender | 24 | 4 | 0 | 0 | 1 | 0 | 0 | 0.0 |
| 5 | Jack Amy | Defender | 16 | 6 | 0 | 0 | 1 | 0 | 1 | 0.0 |
| 5 | Owen Newman | Defender | 23 | 1 | 0 | 1 | 1 | 0 | 4 | 0.0 |
| 6 | Childs Lee | Defender | 1 | 0 | 0 | 0 | 0 | 0 | 0 | 0.0 |
| 6 | Dan Clarke | Defender | 1 | 0 | 0 | 0 | 0 | 0 | 0 | 0.0 |
| 6 | David Thompson | Defender | 2 | 2 | 0 | 0 | 0 | 0 | 0 | 0.0 |
| 6 | James Corke | Defender | 10 | 0 | 0 | 1 | 2 | 0 | 2 | 0.0 |
| 6 | Mark Marshall | Defender | 1 | 0 | 0 | 0 | 0 | 0 | 0 | 0.0 |
| 7 | Anton Ward | Forward | 1 | 0 | 0 | 0 | 0 | 0 | 0 | 0.0 |
| 7 | Dean Allard | Midfield | 1 | 0 | 0 | 3 | 1 | 0 | 1 | 0.0 |
| 7 | Dominic Docherty | Midfield | 4 | 0 | 1 | 1 | 1 | 0 | 0 | 0.0 |
| 7 | Jack Waitt | Forward/Winger | 7 | 3 | 0 | 2 | 0 | 0 | 0 | 0.0 |
| 7 | Sam Johnson | Midfield | 9 | 1 | 7 | 9 | 0 | 0 | 0 | 0.0 |
| 8 | Aaron Robson | Midfield | 32 | 3 | 13 | 4 | 0 | 0 | 3 | 0.0 |
| 8 | Grant Johnson | Midfield | 6 | 0 | 1 | 0 | 3 | 0 | 1 | 0.0 |
| 8 | Josh Durrant | Midfield | 3 | 2 | 0 | 0 | 0 | 0 | 0 | 0.0 |
| 8 | Neil Bowman | Midfield | 1 | 1 | 0 | 0 | 0 | 0 | 0 | 0.0 |
| 9 | Barry Crane | Forward | 15 | 2 | 0 | 2 | 4 | 0 | 1 | 0.0 |
| 9 | Garrett Ward | Forward | 9 | 1 | 7 | 3 | 1 | 0 | 1 | 0.0 |
| 9 | Gary Fitzgerald | Striker | 10 | 0 | 6 | 3 | 1 | 0 | 1 | 0.0 |
| 9 | Jamie Mansfield | Forward | 34 | 4 | 4 | 18 | 1 | 0 | 2 | 0.0 |
| 9 | Keegan Middleton | Forward | 1 | 0 | 0 | 1 | 0 | 0 | 0 | 0.0 |
| 9 | Martin Barnes | Forward | 3 | 2 | 0 | 0 | 0 | 0 | 0 | 0.0 |
| 10 | Anthony Hall | Striker | 1 | 0 | 0 | 0 | 0 | 0 | 0 | 0.0 |
| 10 | Danny Heller | Midfield | 4 | 2 | 2 | 2 | 0 | 0 | 0 | 0.0 |
| 10 | Glenn Hughes | Striker | 16 | 2 | 4 | 6 | 1 | 0 | 1 | 0.0 |
| 10 | Kevin Jarvis | Forward | 31 | 0 | 15 | 1 | 2 | 0 | 1 | 0.0 |
| 11 | Ben Ford | Midfield | 2 | 2 | 0 | 0 | 0 | 0 | 0 | 0.0 |
| 11 | Dan Dybal | Midfield | 6 | 2 | 1 | 3 | 0 | 0 | 0 | 0.0 |
| 11 | James MacMillan | Forward/Winger | 28 | 2 | 5 | 3 | 1 | 0 | 4 | 0.0 |
| 11 | Jordon Barrett | Midfield | 10 | 2 | 1 | 0 | 0 | 0 | 0 | 0.0 |
| 11 | Kieran Hack | Forward | 1 | 1 | 0 | 1 | 0 | 0 | 0 | 0.0 |
| 12 | James Landury | Defender | 2 | 2 | 0 | 0 | 0 | 0 | 0 | 0.0 |
| 13 | Alfie Gennings | Goalkeeper | 4 | 0 | 0 | 0 | 0 | 0 | 0 | 0.0 |
| 13 | Chris Hollis | GoalKeeper | 2 | 0 | 0 | 0 | 0 | 0 | 1 | 0.0 |
| 14 | Josh W | Winger | 0 | 0 | 0 | 0 | 0 | 0 | 0 | 0.0 |